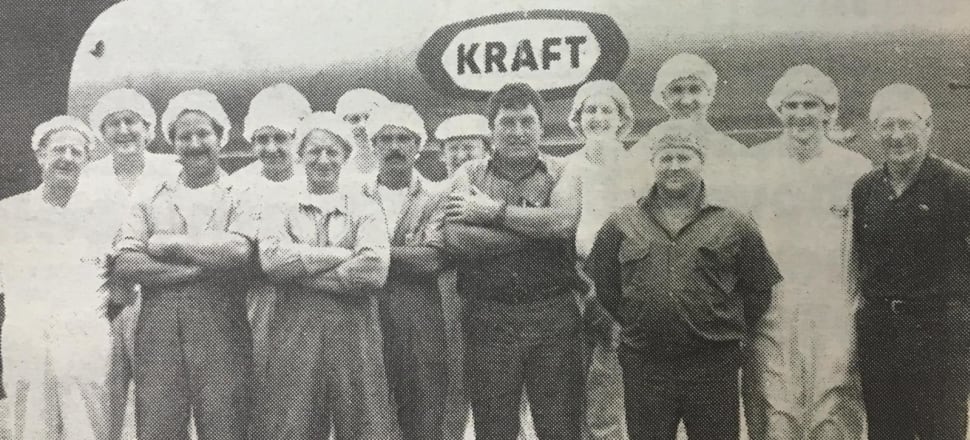 5370537724001
A $76 million expansion of the Strathmerton Kraft factory is expected to have an enormous impact on the small town.
Kraft has announced the expansion will create an extra 320 jobs.
The manufacture of Krafts blue pack, processed cheese, cheese sticks and deluxe sliced cheese will be moved from Port Melbourne to Strathmerton between 1994 and 1997.
The plant currently employs about 140 people and produces the Philadelphia and Coon cheese products.
The good news was announced to staff and suppliers last week and by the weekend the town was buzzing about the announcement.
The big work force, the building phase and the expectation that some of the new employees will want to live in the town is expected to have a significant impact on the community of about 500 people.
Construction of the new plant is expected to start soon with completion scheduled for early in 1994.
Kraft Foods Ltd Managing director, Mr Thomas Park said the investment was a positive move for both Kraft and for the Australian food processing industry.
The Port Melbourne plant produces processed cheese products and grocery lines such as Vegemite, Kraft Mayonnaise, Kraft Peanut Butter, Kraft Salad dressings and several other food service and export products.
Kraft plans to concentrate production on grocery products from its Port Melbourne plant and the shift of some lines to Strathmerton will create room for future growth in grocery lines.
Mr Park said the scaling down of cheese manufacturing at Port Melbourne will take place from early 1994 to 1997 as Strathmerton is scaled up.
"It represents a significant capital outlay for Kraft in a major country area at the time when rural Australia is feeling the worst effects of the economic recession. As such it will create a positive stimulus to the area, and create significant flow-on benefits," he said.
Premier, Ms Joan Kirner, said she was delighted to see Kraft showing what can be done in the food processing industry.
"In terms of jobs in regional Victoria, this is excellent news," Ms Kirner said.
She said a special team has been established in the development of manufacturing and Industry Development to ensure there are no unnecessary planning or regulatory hold ups to the Strathmerton expansion.
The Shepparton Kyabram Rodney Development Corporation supplied information to Kraft management about the region while it was reaching a decision.
Corporation chief executive, Mr Phillip Steer said the expansion would benefit Shepparton and the region.